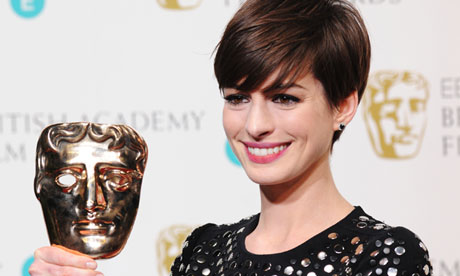 An enjoyable day was followed by an enjoyable night for me this Sunday, with a day full of Chinese New Year festivites and an evening watching the much anticipated BAFTAs. Overall I think the winners were quite a mixed bag, which was refreshing
when you think of how last year The Artist won everything. All the Best Picture nominees got to shine in some category or another...except for Zero Dark Thirty...oh well? Can't say I enjoyed it that much anyway.
Having seen all the Best Picture nominees except Argo, I don't really have much to say about it, only that I would have preferred Life of Pi to win. I was pleased to see Silver Linings Playbook get Best Adapted Screenplay, and of course to see Emmanuelle Riva get Supporting Actress as her performance in Amour was heart-wrenchingly realistic and upsetting, I think it was much deserved. Hathaway and Day Lewis unsurprisingly won Supporting Actress and Best Actor awards, and I have a feeling the turn out will be much the same at the Oscars too. However, I think the Best Picture Oscar will end up going to Lincoln ( even though it should go to Beasts of the Southern Wild or Life of Pi in my opinion).
Ultimately I've come to realize that even though some of the films that I wanted to win didn't, a film doesn't need an award to justify how successful/enjoyable/well-made it is. At the end of the day, award shows are kind of just like a big ego-boost for all involved, and once they're over, well that's it til' next year folks! The Academy know their craft, they know what films they like. Of course there is always a fair amount of politics involved when it comes to voting as in any awards ceremony, but ultimately it's up to them.


I think the reason I look forward to award's season every year is that it gets people talking about something I love, and I think any excuse to talk about films is a good one! Not only that, but its great to see so many film makers, producers and actors all in one place at the same time, and even better to see their hard work acknowledged and rewarded. Its pretty inspiring, and I know that I'd love to be a part of the film industry in some form or another one day. Whether that ever happens, only time will tell. In any case, award's season is, for me, a reminder that film culture isn't dead. That in fact it can't die, as long as there are people who are as passionate and dedicated to making films as this current generation's film makers.