Stuck for something to watch with your significant other this Valentine's Day? It can be difficult to find something that isn't too cheesy, or that won't make you feel too terrible about your relationship during this lovey-dovey month. However, there's no need to sweat it. Here is a list of films that prove love doesn't always have to unfold with pomp and clichés, or even have a happy ending. So without further ado, here's a list of the top ten best indie romance films to cuddle up to this month:
1. Eternal Sunshine of the Spotless Mind (2004)
A break-up comedy with a tragic twist, Eternal Sunshine is a must for anyone looking for a more quirky examination of post-traumatic relationship disorder. With a distinctive visual style harmonized with bouts of humour and tender moments, Eternal Sunshine is often written off as a mere rom-com in most film catalogues, but it is so much more. Blending sci-fi with romance and comedy, its quirky eccentricity gives it a raw edge, highlighted in its intense attention to detail making it well worth a re-watch like a gift that keeps on giving.
Best Quote: "Random thoughts for Valentine's day, 2004. Today is a holiday invented by greeting card companies to make people feel like crap.''
2. Like Crazy (2011)
If you're in a long-term relationship, this film might just be a little too relatable. Like Crazy follows the lives of Jacob and Anna, a young couple forced apart after Anna violates the terms of her visa, leaving her unable to visit her love. This film depicts the hardships of maintaining a long-term relationship during a time in which its character's lives are in a constant state of change. Perhaps not the most light-hearted romance film to watch on the run up to Valentine's Day, but definitely worth giving a go. If nothing else, it will definitely leave both you and your partner reassessing what being in a committed relationship really means, and hopefully help you appreciate what you have.
Best Quote: "Because it's the halves that halve you in half. I didn't know, don't know, about the in-between bits; the gory bits of you, and the gory bits of me.''
3. Moonrise Kingdom (2012)
Set in the 1960's, 12 year olds Sam and Suzy's puppy love is enough to melt anyone's heart. On the run from their friends and family in order to pursue their budding young romance, it's funny, feel good and a little bit off-the-wall. Moonrise Kingdom is a showcase of Anderson's signature charm and kooky style, all wrapped up into an adorably comedic tale of two naïve young lovers on the run. Nostalgic and cute, Moonrise Kingdom is sure to go down well if you're looking for something a little less serious and a little more wistful.
Best Quote: "We're in love. We just want to be together. What's wrong with that?''
Fancy something a little more continental? Whether you're a fan of foreign cinema or not, Amelie is a charmingly optimistic comedy and feel good film about a young women who decides to devote her time to unassumingly bettering the lives of others, discovering love along the way. Set in a city notorious for its romance, this film is a beautifully shot feel-good flic, and a must for any Francophiles out there.
Best Quote: ''These are hard times for dreamers.''
5. Blue is the Warmest Colour (2013)
Yes, another French film! If you're looking for something a little steamier and less idealistic than Amelie, look no further than Blue is The Warmest Colour. Raw and sensual, Blue is The Warmest Colour is a hit within the LGBT community, though the romance at the core of this film can be enjoyed by anyone. Probably the longest film on this list, a definite recommendation for any couples looking for something a little bit more art-house and intense.
Best Quote: ''I have infinite tenderness for you. I always will. My whole life.''
6. (500) Days of Summer (2009)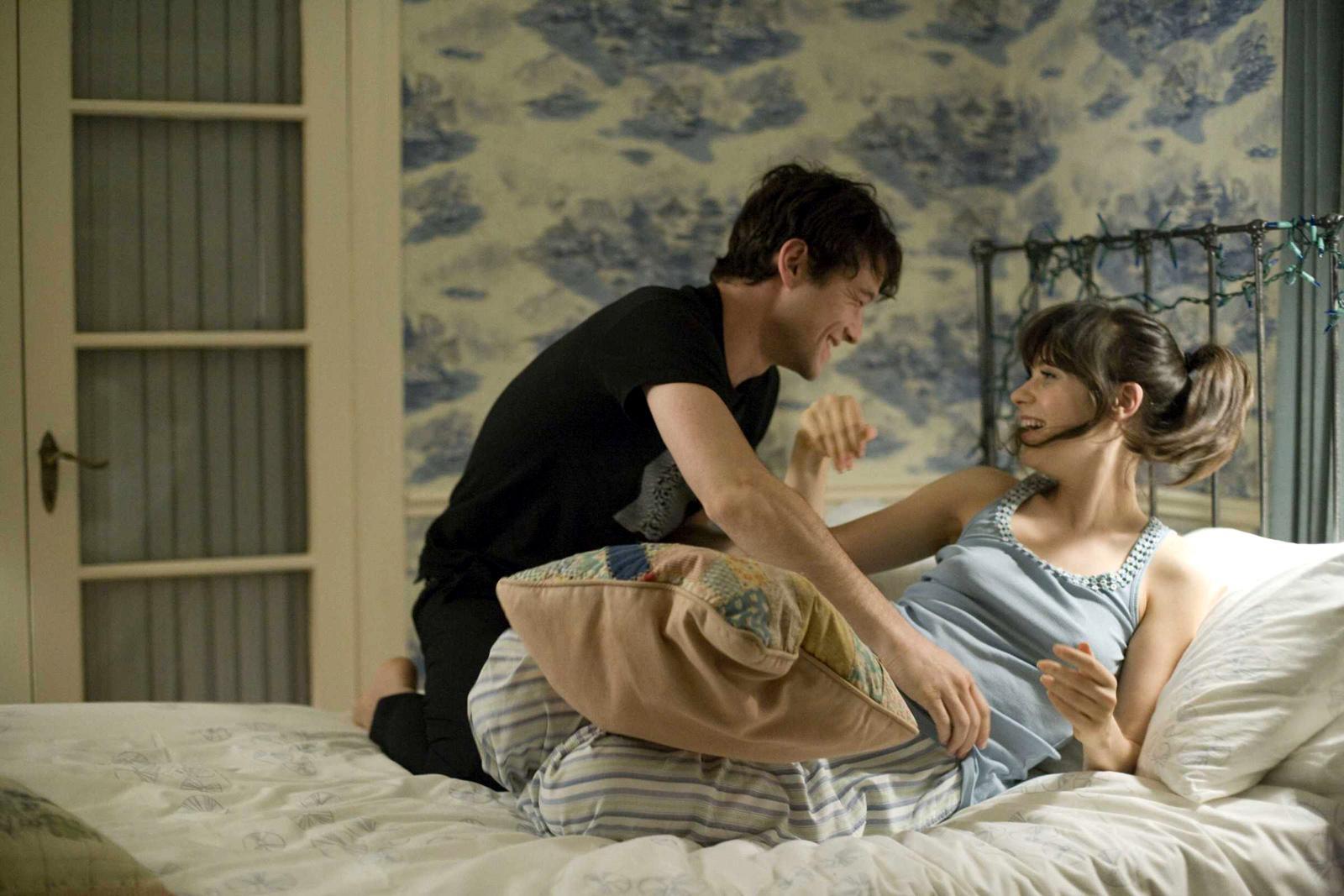 A cult film and not even a love story, (500) Days of Summer set the bar for many an indie rom-com, its ever-present self-awareness and post-modernity making it a surprise hit. Told in a non-linear narrative, we meet Tom (Joseph Gordon Levitt). Aspiring architect and employee at a greeting card company, Tom falls head over heels for his new co-worker Summer (Zoey Deschanel). With contrasting ideas about love, and a shared fondness for the Smiths, they begin the ultimate story of boy meets girl. Don't let this cliché sounding summary put you off though, (500) Days of Summer packs an emotional punch in equal doses of heartbreak and romance, with just the right amount of humour and an awesome and diverse soundtrack. Definitely a must-see.
Best Quote: ''Just because she likes the same bizzaro crap you do doesn't mean she's your soul mate.''
7. Submarine (2010)
The IT Crowd's Richard Ayoade's first feature film Submarine is a funny yet heart-warming Brit-com that follows awkward 15 year old Oliver Tate (Craig Roberts) in his attempt to woo and eventually lose his virginity to aloof pyromaniac Jordana Bevan (Yasmin Paige). Strangely elegant and full of stony deadpan romance, Submarine is a charmingly British teen rom-com which manages to stay light-hearted and unpretentious while maintaining a nostalgic and sentimental vibe.
Best Quote: ''I took a photo of us, mid-embrace. When I am old and alone I will remember that I once held something truly beautiful.''
8. Scott Pilgrim vs. the World (2010)
With a kickass soundtrack taken straight from the original comics and an excellent videogame/ comic book aesthetic, Edgar Wright's adaptation of Bryan Lee O'malley's cult graphic novel series is fresh and witty. Featuring Michael Cera as the hero of the story, we meet the ultimate Manic Pixie Dream Girl to trump all Manic Pixie Dream Girls: Ramona Flowers (Mary Elizabeth Winstead). In a constant battle to defeat all seven of her evil exes and prove his awesomeness, Scott Pilgrim vs. the world is all about kicking butt and getting the girl. With a culmination of excellent one-liners and a bunch of zany characters, Scott's dedication and commitment to his hard-hearted, bright-haired dream girl is sure to make you fall in lesbians.
Best Quote: ''When I'm around you, I kind of feel like I'm on drugs. Not that I do drugs. Unless you do drugs, in which case I do them all the time. All of them.''
9. Much Ado about Nothing (2012)
More into classic romance? Why not try Joss Whedon's modern retelling of Shakespeare's classic comedy of manners Much Ado about Nothing? Relaxed and free-flowing, Whedon just seems to get drama and comedy in way many film-makers fail to grasp. With familiar faces from past television series he's worked on, it's like a treat filled cast reunion in the form of a Shakespeare adaptation. Filled with amusing interactions interspersed within a classic tale that manages to deliver enough humour for it not to feel like just another hum-drum Shakespeare adaptation. You can count on Whedon to deliver something a little different, the unusual choice of shooting in black and white doing service to its whimsy and charm, while keeping a mellow and laid back vibe.
Best Quote: ''All hearts in love use their own tongues; Let every eye negotiate for itself.''
10. Silver Linings Playbook (2012)
Starring lady of the moment Jennifer Lawrence, and winner of many awards, Silver Linings Playbook isn't your average rom-com. A feel good film and heartfelt drama, it feels very human. Pat (Bradley Cooper) has just been released from a short stint in a mental institution. While trying to readapt to normality and continue pursuing his ex-wife, he meets Tiffany (Jennifer Lawrence) a wild spark with her own baggage to deal with. The dynamic between Lawrence and Cooper is a giggle to watch, as their characters' erratic personalities clash, without any cheesy overdone moments. It all feels very natural, and that's part of its charm. This film's overriding optimism is sure to put a smile on your face this Valentine's day.
Best Quote: ''The world will break your heart ten ways to Sunday. That's guaranteed. I can't begin to explain that. Or the craziness inside myself and everyone else.''
Also Featured
here
on
Filmoria