'Ghosts are real, that much I know. I've seen them all my life...'
Ghosts, gothic romance, and oozes of blood red footprints through pale white snow; Guillermo Del Toro's new Gothic treasure is as beautiful to behold as a chiaroscuro painting, with a similar air of mystery. Running away from a family tragedy, aspiring writer Edith Cushing (Mia Wasikowska) escapes her comfortable life in the industrially progressive city of Buffalo, NY to pursue her lover Thomas Sharpe ( Tom Hiddleston) to his isolated mansion known as 'Allerdale Hall', found sinking into the rolling hills of the Cumbria countryside, with sanguineous red clay seeping beneath its floorboards and walls.
For the casual movie-goer, it may be easy to write off Crimson Peak as just another horror film being churned out for the Halloween season, but scratch its dusty, moth-eaten surface, and you'll find an extremely well crafted film that blends the horror and thriller genres with gothic romance almost expertly. You'll be hard-pressed to peg this as just a horror film though, as much as it sells itself on its ghosts, spooks and scares, there's much more plot to it than that. And while, yes, it does have a habit of falling into some of the many stereotypes of the Gothic genre, it also inverts some of them too.
Edith isn't simply the delicate young ingénue of this story, she's also the fighting spirit of the film, determined to unearth the secrets being held from her by those she loves. And that is one of the underlying themes of this dark and tragic film: love, though not the cheesy kind. It's about different kinds of love; the domineering and oppressive bond Lucille (Jessica Chastain) has with her brother Thomas, the suffocating, overprotective love of a father for his daughter, and the camaraderie that we see shared between Edith and her childhood friend, Dr Alan McMichael (Charlie Hunnam). And that's without mentioning the complicated, masochistic romance that blossoms between Thomas and Edith. None of it is transparent, or necessarily beautiful to behold, it simply is. As Lucille so eloquently puts it: 'Love makes monsters of us all'
Hiddleston, Chastain and Wasikowska are all on point as their respective characters, with Chastain coming across especially threatening as Lucille Sharpe, the sister who haunts the corridors of her home, and dares to wear a bold crimson dress to an all white ball. While Lucille tickles the ivories, Thomas and Edith dance the most intense, passionate, and beautifully filmed waltz before the awestruck faces of the other guests. This isn't the only especially beautiful scene, almost every frame feels artfully crafted and painterly. 'The fact is', says Del Toro in a recent interview with
Little White Lies
, 'the raw footage looked gorgeous because I always say, the look of a movie is a table of four legs. One is of course cinematography, but the other three are wardrobe, set production design and direction. And I think they are indivisible.'
This statement certainly holds up in
Crimson Peak
, with the cinematography, costume and sets being among the most beautiful displays of artistry within a film you'll have seen this year. The colours are rich, the lighting is mesmerizing, and the costume design is hauntingly beautiful and extremely varied in texture, pattern and design. There's got to be some Oscar nominations in there somewhere.
Even Allerdale Hall, the old, charmingly dishevelled home of the Sharpe siblings embodies a character of its own. Teeming with secrets and burdened with lifetimes of terrible memories, it breathes and sighs with the cold winter air,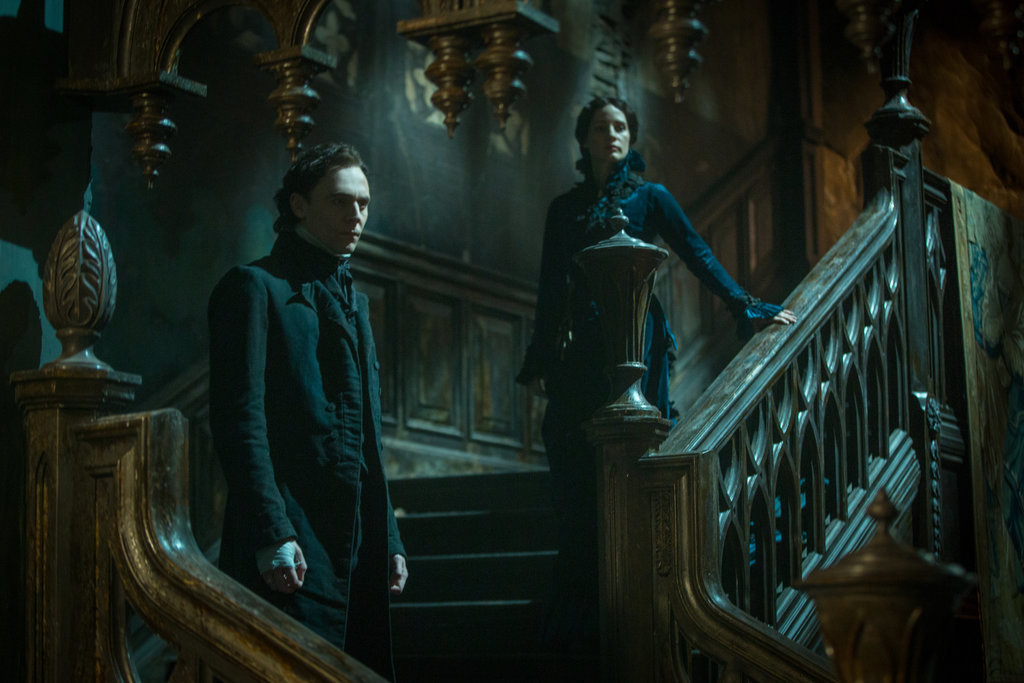 In
Crimson Peak
, Del Toro successfully delivers tension, tragedy and heartache in this chilling tale of love, loss and betrayal. If you're a sucker for a good-looking movie, look no further. While
Crimson Peak
has its flaws and the occasional plot-hole, it certainly delivers aesthetically and makes for a far more satisfying watch than much of what else is out at the moment. A classic, yet intrinsically contemporary take on your average ghost story,
Crimson Peak
is a must-see this Halloween.